National Links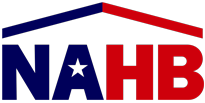 NAHB News Feed
There are five key numbers, or key performance indicators (KPIs), in a residential building company's financials that builders should be aware of on a quarterly basis.

As NAHB wraps up its celebration of Professional Women in Building (PWB) Week 2021, women in the industry share how membership in the PWB Council has influenced their careers.

Learn how the ICC 700-2020 National Green Building Standard® (NGBS) provides a flexible roadmap for green renovation projects — including the conversion of existing buildings to residential use, even if that building is subject to historical preservation regulations.

House Democrats are working to draft a $3.5 trillion Build Back Better plan that includes onerous tax hikes of $2 trillion and aggressive energy efficiency requirements in model building energy codes that would harm housing affordability. This ambitious plan also contains several other elements of interest to the housing community.

Signature Kitchen Suite (SKS) is back as NAHB's official membership sponsor and is once again offering Builder members and their Affiliate members a chance to win a trip to Napa Valley, Calif.