National Links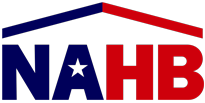 NAHB News Feed
Housing production fell in April due to the increased costs of building materials that have priced out potential home buyers. Overall housing starts decreased 9.5% to a seasonally adjusted annual rate of 1.57 million units, according to a report from the U.S. Department of Housing and Urban Development and the U.S. Census Bureau.

The total number of single-family permits issued year-to-date nationwide reached 276,110 in March, up 25.3% over the March 2020 level of 220,416, with gains across the nation. In addition, multifamily permits were also robust in March compared to last year, with all four regions of the country showing double digit percentage gains.

Builder confidence held stable in May, despite growing concerns over the price and availability of most building materials, including lumber.

Members of Congress and the Biden administration are heeding the concerns of NAHB and its grassroots on the need to take action to resolve soaring lumber prices, supply shortages and tariffs that are hurting home builders, home buyers, the housing sector and the economy.

It's not just lumber. The rapidly rising prices for other heavily relied upon building materials – like steel, concrete and gypsum products – are causing widespread concerns throughout the housing industry.