National Links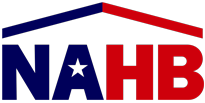 NAHB News Feed
The Federal Housing Finance Agency (FHFA) has announced that Fannie Mae and Freddie Mac will extend their moratorium on single-family foreclosures and evictions until June 30, 2021.  The foreclosure moratorium applies to Fannie Mae and Freddie Mac-backed single-family mortgages only. The eviction moratorium applies to properties that have been acquired by Fannie and Freddie through […]

The fifth annual Ladder Safety Month, presented by the American Ladder Institute, begins on Monday, March 1. As spring building season kicks off, home builders should use this month to refresh their training on ladder safety.

Four HBAs were recently selected to receive financial assistance to overcome local housing affordability challenges.

On the latest episode of the Housing Developments podcast, NAHB CEO Jerry Howard and Chief Lobbyist Jim Tobin have a candid discussion with Scott Reuter, chief appraiser and head of valuation at Freddie Mac, and Kurt Dinnes, founder of Sun Custom Homes in Oklahoma City, on the appraisal process during this time of skyrocketing lumber […]

To provide a clear example of how different jurisdictions are re-examining structural inequities, NAHB has convened a panel to discuss how housing advocates are proposing to revise state zoning laws to reduce segregation.