National Links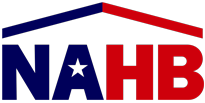 NAHB News Feed
By unanimous consent, the Senate on June 3 approved legislation passed by the House last week that will liberalize rules under the Paycheck Protection Program (PPP) to give business owners more time to have the loans forgiven by the U.S. government. President Trump is expected to sign the legislation into law shortly.

Built within the densely populated Winter Park community of Orlando, The New American Home® 2021 will showcase many of the amenities today's home buyers are seeking – most notably, a prime location.

The COVID-19 pandemic has forced residents to look at a number of their everyday experiences — including the way they live. In multifamily developments, the areas of real changes will occur based on two components: health and safety protocols, and consumer demands.

National Homeownership Month in June is an opportunity to remind consumers about the evolving role of the home and its importance in our lives.

NAHB Education is offering a variety of dynamic webinars for industry professionals during the month of June. These webinars are specifically designed to help participants expand their knowledge on emerging trends, research and develop valuable skills, all while learning in a safe environment.