National Links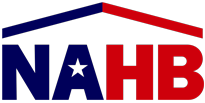 NAHB News Feed
In a critical win for NAHB and the residential construction sector, the Department of Homeland Security (DHS) today designated construction of single-family and multifamily housing as an "Essential Infrastructure Business."

The U.S. Department of Veterans Affairs today issued a circular that provides guidance for VA home loan borrowers affected by COVID-19 and describes temporary measures regarding loan origination, closing and guaranty. The agency also issued a separate notice regarding valuation practices during the pandemic.

The NAHB online course, Estimating and Scheduling for Profitable Business Operations, will help participants excel at performing two tasks critical to project preparation: estimating costs and creating the schedule to complete the project.

In a key win for NAHB, the Environmental Protection Agency has made a significant announcement affecting how the housing community will be impacted by implementation of the Toxic Substance Control ACT (TSCA) Fees Rule.

NAHB continues to provide up-to-date economic forecasts, policy updates, business continuity, jobsite safety and communications resources for both NAHB members and HBA staff to help them navigate this current crisis.