National Links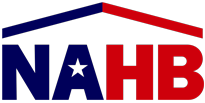 NAHB News Feed
NAHB online course Construction Contracts & Law on consecutive Tuesdays (March 10, 17 and 24) provides a step-by-step explanation of how contracts sustain positive customer and supplier relations, provide for resolution of disputes, and minimize the risk of litigation.

The National Wood Flooring Association has updated its comprehensive guidelines for the proper installation of wood flooring. Thanks to a collaboration between the NWFA and NAHB staff, the guidelines are available to NAHB members for free.

More than four out of five builders – 85% – expect to face serious challenges regarding the cost and availability of labor this year, according to a recent survey of NAHB members.

The 2020 best systems-built homes, industry professionals and marketing initiatives were recognized at the 2019 Building Systems Housing Summit in Pittsburgh.

At the 2020 International Builders' Show, the NAHB Legal Action Committee recommended financial assistance through the Legal Action Fund for three cases addressing issues of national significance or questions that pose common problems for NAHB members.